Contacts
0086-13650875099
0086-13760620808
Email:
Address:Room 09,12/F,A Building,HongYu Square,No.205 Baogang Road,HaiZhu District,Guangzhou,China
Payment Terms
Westerm Moneygram :
wan quan xu
Product Showcase
Flat Back Rhinestones Blue Zircon in Bulk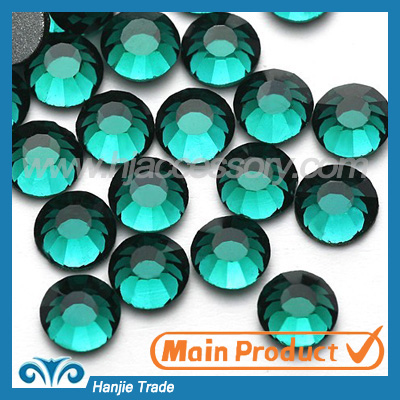 Product Details:
Product TypeRhinestone
MaterialCrystal
Shape Round,Flower,Square etc
Rhinestones Type Loose Rhinestones
Technics Sew-on
Style With hole or without hole
UseBags, Garment, Shoes, Caps
ColorVarious colors
Size Various Size, according to customer's design
Place of Origin Guangzhou, China
Brand Name HJ
Payment & Shipping Terms:DHL,UPS,FEDEX,EMS.
Minimum Order Quantity:5000pcs
Port: Guangzhou
Packaging Details: Plastic Package and Paper Carton
Delivery Time: 1~3 days
Payment Terms: Paypal, T/T, Western Uniom
Supply Ability: 100000pcs/days
Flat Back Rhinestones Blue Zircon in Bulk
Flatback rhinestone, Hot fix rhinestone, Chaton, Sew on rhinestone, Rhine stone with claw & setting, Button
1. Material: glass, crystal glass
2. Size: SS4, SS6, SS8, SS10, SS12, SS16, SS20, SS30, SS34, SS40
3. Color: More than 30 colors
4. Packing ( Also can pack as customers request )
5. Item No.:WH111100027
Size chart:
1 gross=144pcs
ss6 2.0-2.1mm 1440pcs/10gross/bag
ss8 2.4-2.5mm 1440pcs/10gross/bag
ss10 2.8-2.9mm 1440pcs/10gross/bag
ss12 3.0-3.2mm 1440pcs/10gross/bag
ss16 3.8-4.0mm 1440pcs/10gross/bag
ss20 4.6-4.8mm 720pcs/5gross/bag
ss30 6.3-6.5mm 288pcs/2gross/bag
ss34 7.0-7.2mm 288pcs/2gross/bag
6. Application: fashion clothes, trousers, bags, hats, shoes, etc
7.Min order: If we have the rhinestones that which color and size you want on stock, any pacakage or bag is OK.
8. We always try to meet customers' request and arrange the fast delivery. You will feel it if there is any chance that we can cooperate

Mix color order are available for one lot. Pls remark your color number from the description picture when order, then we can follow. if no color remark, we will send mix color.
Application Instructions

Flat Back Rhinestone
These are loose crystal components with different shapes and cuts, such as the Swarovski XILION Rose No Hotfix - the new generation of brilliance. They have a platinum foiling on the back and can be applied to different carrier materials by means of a one and two component glue.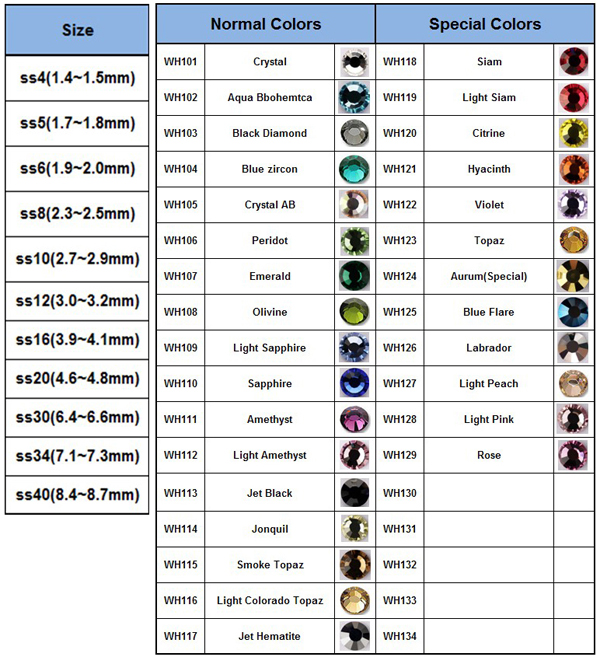 Flat Back Rhinestone