Contacts
0086-13650875099
0086-13760620808
Email:
Address:Room 09,12/F,A Building,HongYu Square,No.205 Baogang Road,HaiZhu District,Guangzhou,China
Payment Terms
Westerm Moneygram :
wan quan xu
Management
Introduction
The organizational structure of Guangzhou Han Jie Trade Co,.Ltd. is split into four departments and a subsidiary factory,also some partners.
Four departments are QA,public administration,sales and after-sale service center.
QA is constituted of personnel department,financial department and general affairs department.
Sales department is made up of internal sales and overseas sales.
After-sale service center is specially deal with specially case. Advice and Complaint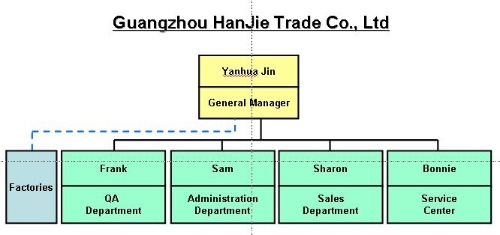 Management Team
Name/Title: Bonnie Xu / Supervisor of Service Center
Introduction:Bonnie had been a master of after-sale service center since company was built.
Succeed in dealing with trade trouble many times and guaranteed our customers' benefit.
Name/Title: Sharon Li / Supervisor of Sales Department
Introduction:I'm engaged in foreign trade of B2B for four years and promoted to a department master in the early 2009.
About Sales Department:
HanJie's solid key values which are emphasized on the commitment to quality, speed and consistency have made hanJie one of the most exciting companies in the garment accessories field.
All above is because we have a strong team ,the Sales Department is made of
15 people ,there are 5 senior sales representative charge foreign trade. They always keep in mind that the customer is god ,and lead their team to try their best to meet the customer's requirment.
We guarantee fast and efficient manufacture of your products to meet maketing & sales shedules !
Our principle is "The customer is king and the quality is life". Sincerely offer best products and service to you !
Didn't find what you're looking for?
Post an RFQ
to let the Industry Specialists in Alibaba.com to match the right suppliers for you !